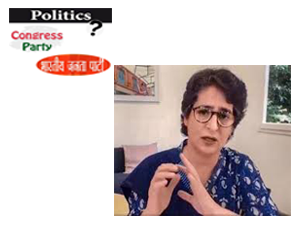 It was in the year 2007-2008 and I was working with an English weekly Sahara Time and used to be part of the editorial meetings. The then Editor-in-chief Uday Sinha in his almost every editorial discussion on politics used to say that 'if Rahul Gandhi or Priyanka Gandhi want success in politics, then they must make Lucknow as their base at least for five years". Apparently his words are proving to be true after his sad demise around a month ago in Lucknow.

Years later it is being gauged whether Priyanka Gandhi Vadra would change her base to Lucknow. Several media reports are doing rounds and requests from the party leaders are pouring in for her to think over it. It could be a game-changer move as some say.
The Centre this week asked Priyanka to vacate her Lodi Estate bungalow in view of Priyanka being no longer an SPG protectee. She has been very active in Uttar Pradesh which was once Congress' pocket borough. The state leadership is urging her to shift her base from Delhi to Lucknow in a bid to strengthen the organization and unnerve the BJP ahead of the Assembly polls due in the next two years.
The house at Gokhale Marg in Lucknow was "refurbished" in October 2019 to enable her to stay there for a longer duration. She doesn't need to look for a house in Lucknow. However, she needs to take a call whether she wants to shift her base to Lucknow permanently. UP Congress president Ajay Kumar Lallu also remained non-committal about her Lucknow plans.
UP is the key battleground state that sends the maximum number of Lok Sabha MP that is 80. Priyanka left not even a single issue on which the Yogi government could be targeted. Political slugfest between Priyanka and BSP chief Mayawati is also continuing when Priyanka called Mayawati an "undeclared BJP spokesperson".
She has been working tirelessly in UP whether her visit to Umbha village to arranging buses to ferry stranded migrant workers back to their native places. Her shifting to Lucknow will come as a shot in the arm, as workers may get emboldened to challenge the ruling BJP in the run-up to the 2022 assembly elections.
(By Rakesh Ranjan)