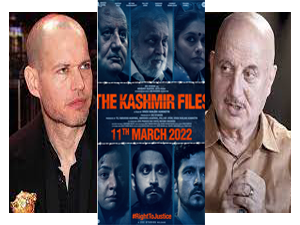 New Delhi (30.11.2022): When Nadav Lapid, an Israeli filmmaker and one of the juries of IFFI called 'The Kashmir Files' a "vulgar and propaganda" movie, the comment was bound to spark a controversy as top echelons in the present dispensation always recommended to watch the film. Detractors of the people in power were looking for any such opportunity to grab. But the ministry that keeps itself busy for over two months after Dussehra festival exclusively to make the International Film Festival of India (IFFI) a success story every year still it failed to do a simple due diligence about the ideology of a person which is not in coherence with the government of the day. Lapid did what he was expected.

What due diligence? Asked almost annoyingly a senior official who is in the job of looking after image management of the government? A Google search was enough to ascertain his streams of thoughts, he mumbled. So a section of cadre of the ruling dispensation, narrative managers and those involved in dousing this fire are talking about the sabotage angle of the development terming it a deliberate move to defame the ruling dispensation which otherwise was managing the show smoothly for the past eight years.

Now what? Sources informed Indianmandarins that the matter is very serious and the present dispensation doesn't ignore such things however there won't be any jerk reaction. The matter was so perturbing for the present dispensation that some very senior officials tried unsuccessfully to intervene that the matter does not get highlighted especially in the electronic media but reportedly every attempt had gone in vain.

Amid all these brouhahas over Lapid's statement, it is presumed that the episode may sooner or later cast a shadow on the decision makers in the ministry as the issue gave a serious beating to the image of the present dispensation which is known for standing by its decisions even if things go wrong. This is to recall that the then I&B Minister in 2018 had lost the job for mishandling the National Films Award ceremony where 50 awardees boycotted it in which the President of India gave away awards to just 11 out of 125. The President's House was blamed for everything on which a clarification was issued.

Now, in a similar development, attempts are being made to salvage the situation. It is being speculated who will bear the brunt of the top brass. With the 2024 elections coming closure, the government cannot allow its own system to provide the opposition a stick to beat it that the ministry as such did. Meanwhile, the Israel government apologising for the statement of its citizen may be considered a diplomatic win for the government but for the domestic audience, there are a lot more questions than answers including for its own support system.
(Vinod Kumar Shukla)