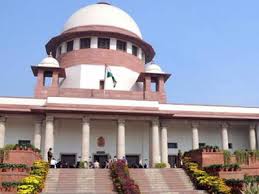 New Delhi (06.05.2022): The Supreme Court on Friday referred to a Constitution Bench the matter related to the tussle between the Centre and the Delhi government over the control of bureaucrats in the Capital.

A bench headed by Chief Justice of India NV Ramana clarified that the five-judge bench shall adjudicate the limited issue relating to 'Services' in Delhi and that no other substantial issue on interpretation of Article 239AA shall be adjudicated afresh. Article 239AA delineates the legislative and executive powers of the Delhi government while clarifying that three subjects, namely land, police and public order, shall remain under the exclusive domain of the Centre in the capital.
The bench, which also included justices Surya Kant and Hima Kohli, said that the matter shall be heard next on May 11.
The Centre pleaded for a fresh adjudication by a Constitution Bench to set the boundaries of the Aam Aadmi Party (AAP) government in Delhi in transferring and appointing bureaucrats.
According to the Centre's submissions, there can be more than the three subjects specifically mentioned under subsection 3 of Article 239AA on which the Delhi government is restricted from passing a law, and this aspect should be clarified further by another five-judge bench.