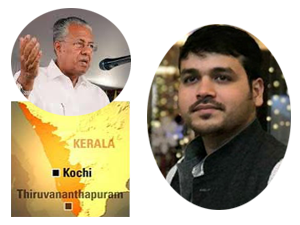 With the passage of time, panic caused by pandemic subsided and the Kerala Government chose to revisit its decision by reinstating and appointing Anupam Mishra (IAS:2016:Kerala) as the sub-collector of Allapuzha district. As per media reports IAS officer Anupam Mishra had allegedly filed in following the guidelines for home quarantine after he returned from his honeymoon from Singapore. He was placed under suspension by the Kerala government on March 27. Later the Government examined the case and revisited its decision.

B Abdul Nasar (IAS:2012:KL), the then Kollam District Collector, had then told media that "he got married in February and was traveling to Singapore with his wife....he came back on March 19... he had left his official residence for Bengaluru with his wife on a flight on the same day. Although he was not showing any symptoms, the protocol was such that he had to be quarantined...May be he misunderstood what home quarantine is… May be he thought it is his home where he has to be quarantined, but the point is that he left without informing anyone." Mishra moved to Bengaluru where his brother -- a doctor. Later media reports said that he had reached his hometown Kanpur in the midst of imposition of lockdown.

For a newly-wed IAS officer, the Kerala Government's decision comes as if truth triumphs. Speaking to Indianmandarins' a few young IAS officers underlined that same Kerala government had conferred Mishra as the Best Sub-collector Award 2019, the only award by the government at the Sub-collector level, for his tenure as Chairman of the senior citizen Tribunal for administering justice.

It appears as if the Kerala Government in 2019 awarded Anupam Mishra for administering justice and in 2020 it rewarded him with justice.