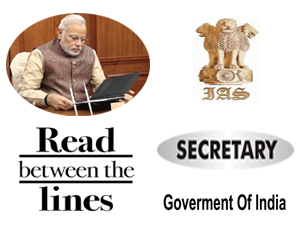 New Delhi (24.01.20210: The latest round of reshuffle of eighteen IAS officers holding secretary, secretary-level posts has its own stories to tell.

First of all, it has unleashed speculations about the next Revenue Secretary in place of ABP Pandey (IAS:1985:MH) who will retire in the next 45 days.
For Otem Dai (IAS:1987:TN), who has been brought to the center, the post of CVC Secretary was upgraded to the rank and pay of Secretary (GoI).
Further, it has been noted that Alok Kumar I (lAS:1988:UP) remains unscathed despite the controversies that surrounded him on the issue of investment of UPPCL's employees PF in DHFL and other housing finance companies. His shift from the Cadre state and appointment as Union Secretary for Power is considered prestigious and reflects the long way he has come since those controversies in May 2020.
Like Alok Kumar, Lady luck has smiled at Alok Tandon (IAS:1986:UP). In December 2019, he was debarred from central deputation for his failure to take up the assignment of Secretary, Department of Administrative Reforms & Public Grievances -the post to which he was appointed on 22 October 2019. His shift and appointment now as Secretary to the Ministry of Mines reflects that the government respects his competence and no-nonsense attitude.
Tandon's appointment as the Mines Secretary has helped remove the avoidable burden of additional charge from the shoulders of Coal Secretary Anil Kumar Jain (IAS:1986:MP). However, Higher Education (MHRD) Secretary Amit Khare (IAS:1985:JH) hasn't proved that lucky and may continue to shoulder the additional responsibility of the Information & Broadcasting Ministry which has been without a full-time secretary since May 2020. It is said that even though the job of I&B secretary is very demanding Khare may continue to hold that responsibility for which he has stalwarts like Hiresh Joshi to share the burden.
Considering the importance attached to the MSME sector in generating jobs that will be critical for winning the confidence of the young before the next general election in 2024, another Gujarat officer Bidyut Bihari Swain (lAS:1988:GJ) has replaced his batchmate and cadre mate Arvind Kumar Sharma who was made to take the VRS this month for being plowed into the UP legislature as a means to put him in charge of certain assiduous and demanding responsibility like job creation on a stupendous scale.
Apart from the I&B Ministry, three more posts of secretary - one in the PMO, Department of Drinking Water & Sanitation and another in the Ministry of Statistics and Program Implementation - have been left vacant. Also, the successor to Tribal Affairs Secretary Deepak Khandekar (IAS:1985:MP) who was laterally shifted from Shastri Bhawan to North Block as Secretary DOPT wasn't announced.
Although the DOPT has finally got a full-time Secretary in Khandekar after a gap of four months, the post may again fall vacant after seven months of tenure since the new secretary is scheduled to retire in August 2021. Possibly, a successor to Khandekar may have already been sighted in the person of Kathikala Sriniwas, a 1989 batch IAS, who will be empaneled for holding a Secretary rank post by then.
Another appointment (though a lateral shift) that has attracted the spotlight is the post of Secretary, Ministry of Textiles. Upendra Prasad Singh (IAS:1985:OR) was laterally shifted from Jal Shakti to Textiles which functions under the ministership of 'Stri-Shakti'. This assignment is considered challenging because the officer will need great skill to navigate his course.
Of eighteen IAS officers on the list thirteen were appointed as Secretary (either afresh or on a lateral shift basis) whereas five were in-situ upgraded to the level of Special Secretary in the rank and pay of Secretary to the Government of India (GoI). They are Praveen Garg, SS Sandhu, Ms. Anjali Bhawara, JN Swain, and Anil Kumar Jha.
The Secretaries (GoI) who saw lateral shift were RK Chaturvedi, Deepak Khandekar, U P Singh & Yogendra Tripathy. Last but not least important is the fact that the 1988 batch secured five Secretary level posts through Alok Kumar I, Bityut Bihari Swain, Praveen Kumar Srivastava, Arvind Singh, and Ms. Alka Tiwari. Among all Khandekar has minimum tenure in service whereas Mrs. Alka Tiwari has maximum tenure i.e. up to September 2025.
(By Rakesh Ranjan)
ALSO READ:
Major Secretary rank reshuffle effected at Centre; Khandekar is Secretary, DOPT