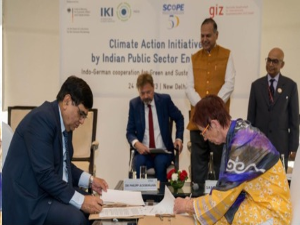 New Delhi (25.05.2023): Pursuant to its endeavors of mitigating Climate Crisis, Standing Conference of Public Enterprises (SCOPE) in collaboration with GIZ, Germany organized a program on 'Climate Action initiatives by Public Sector Enterprises (PSEs) in India', showcasing role of PSEs in reducing carbon footprint, despite operating in hard to abate sectors.

Dr Philipp Ackermann, German Ambassador to India; Gurdeep Singh, CMD, NTPC; Sandeep Kumar Gupta, Chairman, SCOPE and CMD, GAIL; Pawan Kumar, Principal Adviser, DPE; Dr Julie Reviere, Country Director, GIZ India; Atul Sobti, DG, SCOPE addressed the event in presence of senior officials from DPE, GIZ, and various PSEs.
During the program, a first-of-its-kind Compendium on 'Initiatives towards Building Low-Carbon Economy' and a short film on 'Climate Action and Green Initiatives by PSEs' highlighting endeavors of PSEs in hard-to-abate sector were launched. This was followed by signing of a new MoU between SCOPE & GIZ, Germany to develop solutions to achieve sustainable and economic urban and industrial development.