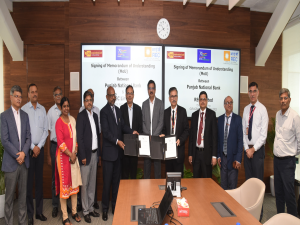 Gurugram (26.09.2023): REC Limited signed an MoU with Punjab National Bank (PNB) on Tuesday to jointly explore the possibility to fund the Power Sector and Infrastructure & Logistics Sector projects under the consortium arrangement. REC and PNB will associate with each other to co-finance loans amounting to Rs 55,000 crore over next three years.

REC Limited provides long term loans and other finance products for Power-Infrastructure sector comprising of Generation, Transmission, Distribution, Renewable Energy and new technologies like Electric Vehicles, Battery Storage, Green Hydrogen etc. More recently REC has also diversified into the Non-Power Infrastructure sector comprising of Roads & Expressways, Metro Rail, Airports, IT Communication, Social & Commercial Infrastructure (Educational Institution, Hospitals), Ports and Electro-Mechanical (E&M) works in respect of various other sectors like Steel, Refinery, etc. The loan book of REC exceeds Rs 4,54,393 Crore.
Punjab National Bank (PNB), is a Public Sector Bank and doing banking Business across the Country with worldwide presence including funding the infrastructure Projects. PNB is one of the largest Public Sector Banks (PSB) in the country with Global Gross Business at ₹ 22,14,741 Crore.
T S C Bosh, Executive Director (Infra & Logistics), REC and Rajeeva, CGM (Corp. Credit Division), PNB signed the MoU in the presence of Ajoy Choudhary, Director Finance, REC; V K Singh, Director Technical, REC and other senior officials from REC and PNB.