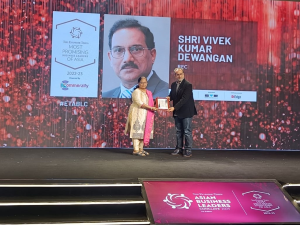 Gurugram (24.03.2023): In recognition of his stellar leadership in scaling up the operational business matters in the power sector value chain, path-breaking energy transition initiatives, remarkable achievement & contribution to the overall well-being of the economy, Vivek Kumar Dewangan, CMD, REC Limited, has been conferred with the prestigious 'The Most Promising Business Leaders of Asia' award on March 21, 2023 at the seventh edition of the Economic Times Asian Business Leaders Conclave 2022-23, hosted by CTB-Taj Lands End, Mumbai.
Saraswathi, Chief Program Manager, REC Limited, received the award On behalf of Dewangan in a glittering ceremony organized by the Economic Times, which was attended by key officials and dignitaries from various industries and policy-making bodies. Under the discerning leadership of Dewangan, REC has been conferred with the Maharatna status and also diversified into the non-power infrastructure & logistics sector and is poised to play a key role in the power sector's transformational journey in the country.
"It is an absolute moment of pride and honor to receive such an esteemed award on a global platform. I believe it is a recognition of the teamwork at REC. Therefore, I would like to extend my deepest gratitude to all the members of REC for this achievement. I congratulate you all," conveyed Vivek Kumar Dewangan through a heartwarming message.