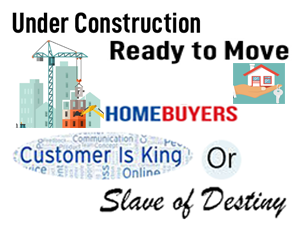 New Delhi (25.01.2021): Buying a house in an under-construction project has become a highly risky proposition, a virtual nightmare for real estate consumers, because of rampant and inordinate delays in projects of even the big builders, let alone the small ones.

In normal situations, developers should raise funds for a realty project through investors, private equity (PE) funds, banks, or non-banking finance companies (NBFCs), but in an upcoming project, it is the buyers who unknowingly fund the developer that too without any return or appreciation.
In fact, for defaulting developers, investment sources have dried up with financial institutions turning very cautious in lending to realty firms due to their uninspiring track record in repayment of loans. Against this grim backdrop, developers turn to their time-tested stratagem of diverting funds received from buyers to start newer projects and this chain goes on and on with project delivery becoming their least priority. Well, the consequent litigation arising out of construction delays is taken care of by developers through employing a battery of lawyers whose strategy consists in tiring out buyers by way of long-drawn-out legal cases that snuff out even many lives of stressed buyers in the process.
Though developers are expected to adhere to timelines under the Real Estate (Regulation and Development) Act (RERA), 2016, they ingeniously make provision for delay by registering their project delivery date 3-4 years beyond what they had declared in the builder-buyer-agreement (BBA). As project funds are not utilized by them in construction at the site, the delivery date is pushed to timeless infinity with cheated buyers running from pillar to post, protesting outside offices of builders and development authorities, and waging protracted battles in RERA, consumer forums, courts and so on.
Once the project delivery is locked in a legal impasse where some developers even turn insolvent, the buyers' money is stuck, rather sunk in a bottomless pit. In the whole process, consumers end up bearing a hefty cost as they are forced to pay both the rents of their existing accommodations and equated monthly installments (EMIs) of their loans. Besides, they need to continue to service their EMIs, even if there is a delay in the construction or project completion.
In the given scary scenario, will it not be a wise thing to look for ready-to-move-in properties?
Of course. More so, given the plenty of options in the ready-to-move (RTM) segment as there is a huge inventory lying unsold across the country today. The buyers also stand to gain from current stable prices, low-interest rates, easy financing schemes, incentives, and offers. Moreover, the price gap between ready-to-move-in and under-construction homes has drastically narrowed in recent times in the slowdown-ridden realty market.
Moreover, buyers of a ready property immediately get the possession, start utilising it as soon as they buy it, instead of being subject to an endless wait for their property to be delivered. And, once they take possession, they cease to pay any more rent.
A ready-to-possess property is free from any discrepancies in the final outcome, be it space, layout, size of rooms, view from the apartment, quality of construction, features, and amenities that buyers are promised in a yet to be constructed property. It gives the buyers the option of first seeing and inspecting the product as well as the infrastructure and other facilities around it before firming up their purchase decision rather than being lured by the deceptively furnished sample flat and the rosy picture painted by the developer.
In terms of tax benefits, in RTM properties you can claim tax exemption on your home loan on both principal and interest repayment instantly while this benefit will elude you in an under-construction property until you get its possession.
Ready properties also insulate you against cost escalation that the builders generally resort to in the case of under-construction properties. Also, if you have bought an accommodation for investment purpose, you can start earning rentals that can help you pay some part of the EMI if you have got your purchase financed.
But you need not be complacent. Instead, you need to exercise utmost caution and ensure that you obtain the properly issued occupancy certificate (OC) and completion certificate (CC) as these alone can ensure registration of your property, thereby proving your ownership and ensuring its resale value.
So, a ready-to-move property should not make you careless about the need to undertake due diligence before buying it.
ALSO READ:
Real Estate consumers: Too many remedies provide too little relief
Real Estate sector & saga of trust deficit: Malicious stratagems provoke PIL
Exploiting RERA to break PM's contract with home buyers?

Even as SC plays the saviour, banks dither over the funding of Amrapali projects

Real estate dream-merchants and the charade of a Sample Flat

RERA, unscrupulous Developers & poor-homebuyers: High on hype, low on substance?