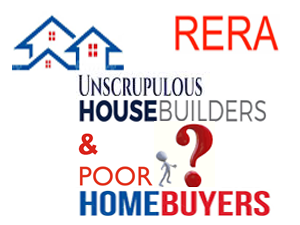 New Delhi (21.11.2020): While the Real Estate Regulation and Development Act (RERA) 2016 might have succeeded in breaking the jaw of real estate sharks, it is still to go a long way to legally limit and contain the guile of the builders/developers who the public at the large suspect as the proxies for corrupt politicians and businessmen.

Indianmandarins plans to run a series of real-life stories on how, working on the grey side of RERA, builders are still trying to take homebuyers for a ride.
One of the many ways employed by real estate companies for stealing the money of home buyers is the most obvious but largely unnoticed trap: set up an exquisitely designed sample flat at the project site. This marketing gimmick turns out to be more effective than deceptively glossy brochures and web pages created by real estate companies to deceive and cheat potential buyers.
Developers use designer, high-end fixtures and furnishings, imparting a premium look to the flat, which creates an insatiable desire verging on craving in the minds of buyers to own the seductively alluring prized property that ultimately turns out to be an elusive mirage.
Builders resort to many gimmicks to lure and play with the emotions of buyers who fall prey to the illusory sample flat.
To trap the gullible homebuyers, usually, rooms, toilets, and bathrooms of a sample flat lack any doors, which creates the illusion of them looking bigger than they really are.
Similarly, pre-fabricated bricks and glass are used extensively in walls to impart a more spacious look to the flat. The ceiling is kept unusually high to create an imposing ambiance. Lighting and furniture are also used in a way that adds to the optical illusion of a large, roomy flat. Interior designers hired by the builder's company put up smaller-than-standard-size customized double beds, dining table sets, and shallow cupboards to give the buyer an impression of freedom to move around even after placing furniture in his dream home.
The sample flat has a deceitfully superior wall finish, usually made of gypsum, not brick and cement plaster, that creates irresistible lifestyle aspirations in the buyer's mind. He is ready to shell out an exorbitant sum for that kind of lifestyle, and will never imagine that the actual flat that he will be delivered, will have only basic fixtures, fittings, flooring, and textures that will fall way below his expectations.
The walls of the sample house are usually thinner than those of a normal structure, mostly being just plywood partitions, which subtly makes the carpet area look bigger than that mentioned in the brochure.
And if, after getting possession of the house, a buyer complains about the difference between the real and perceived value, builders are least bothered. You may not realize but they have already insulated themselves by sneakily including a clause in the builder-buyer agreement that the specifications and dimensions of the house are indicative and final design may vary on actual delivery.
The sample flat offers a panoramic view from a plethora of balconies and windows that it flaunts. But this promised paradise may elude you when you come to live amid a cluster of flats that will impede the flow of light and ventilation that the standalone sample flat seemed to possess.
In sum, the actual flat that you will come to inhabit will be far from the perfect airy and spacious home fallaciously conjured up by the sample flat at the construction site. So, for God's sake, do not finalize your property purchase decision on the basis of the sample flat.
(By Vishal Duggal)
ALSO READ:
RERA, unscrupulous Developers & poor-homebuyers: High on hype, low on substance?