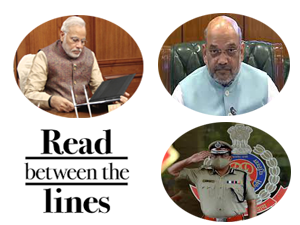 New Delhi (29.07.2021): It is so exceptional that even those who have got used to exceptions becoming norms in matters of top postings are a bit perplexed over the inter-cadre deputation and appointment of Rakesh Asthana (IPS:1984:GJ) as Delhi Police Commissioner for a period of one year - barely four days ahead of superannuation.
Even SN Srivastava's tenure as Delhi CP was broadly ad-hoc from March 2020 till 29 May 2021. Srivastava was regularised just a month ahead of retirement in June 2021 which means Asthana's appointment as Delhi CP followed the advance succession planning and was not just a coincidence.
Certainly, the Govt did not want to take any chance against Asthana's career prospects till the selection of CBI Director was confirmed.
Asthana's appointment needed an extension of service for one year and an inter-cadre transfer (from Gujarat to UT) before drafting him as Delhi's top cop - a coveted post reserved for AGMUT Cadre officers. As expected, it was bound to invite criticism from the opposition yet it could not have cast a shadow on the Govt's studied decision.
Immediately after Asthana's new job was announced, social media threw up many interesting comments. Senior media person Kartikeya Sharma rightly tweeted: 'Boss Never Forgets His Men'. Many others made their observations by saying that Delhi should remain prepared for a sort of adventurism like Mumbai witnessed during Asthana's term as DG, Narcotics Control Bureau (NCB). All such observations were part of the run-of-the-mill comments without any insight.
Whatever, it may be underlined that Asthana has an exceptional track record in city policing earned during his tenure as Police Commissioner of Vadodra and Surat. Even his critics consider him unmatched in terms of investigation albeit he lost the opportunity to grab the coveted position of CBI Director in 2021. Not surprising that the Union Govt chose him for Delhi's tough and treacherous environment.
Farmers' protest, COVID-19 pandemic, ongoing investigation into recent Delhi riots, and the emerging post-Pegasus scenario together could have formed the backdrop in which Asthana's appointment might have been considered and okayed in line with the parameters of succession planning, even though it might have been seen as not too pleasant a decision for many UT cadre officers who were in the reckoning for the top post.
Not unexpectedly, the Congress party held a press conference on Wednesday and questioned the Govt's decision citing the Prakash Singh Judgment on Police Reforms (2006) on the appointment process of state police chiefs. Congress spokesperson Pawan Kheda underlined that the appointment of state DGP is cleared on the basis of a UPSC-made panel which includes IPS officers having at least six months residual service. But probably the NaMo administration would have made it a point that neither Delhi has a full statehood status nor its CP is a DGP post. So, Asthana's appointment cannot be gauged by those parameters.
However, the extension of service four days ahead of retirement by the inter-cadre transfer route is not usual and hence it is being questioned, even though everyone knows this open secret that the present dispensation at the Centre has its own way of doing things and once it takes a decision, it never backs down.
While raising Asthana's appointment issue in public, what Congress failed to understand was that there were many such top appointments in the recent past which the govt justified and these appointments seem to have been working/worked well.
For example, Chhattisgarh cadre IAS officer BVR Subramanyam (IAS: 1987: CG) was made Chief Secretary of J&K (a UT now) on the basis of inter-cadre deputation. It was in the backdrop of the Government's move to make Article 370 inapplicable in J&K. There were also a few more old precedents: All India Service officers like JF Reberio and KPS Gill who were appointed DGP of Punjab. It was in the Congress regime that Rebeiro (Maharashtra cadre IPS) and Gill (Assam-Meghalaya Cadre) were given inter-cadre transfers to deal with extraordinary circumstances.
In addition to criticisms from the opposition, many retired bureaucrats also keep questioning a few top appointments and adjustments. It is often stated that even though there was no precedence, the Enforcement Directorate Chief Sanjay Kumar Mishra (IRS IT:1984) was given a new lease in his career by revising a year-old appointment order with retrospective effect. PILs were filed against it but they were dismissed.
Similarly, post-retirement appointments of Sushil Chandra and PC Mody as CBDT Chairmen and SK Gupta as a Member on contract-basis were surprising but all have proven as sustainable propositions.
The only surprising part of Asthana's appointment as Delhi Police chief is why it has come so late, as stories about the appointment of a Gujarat cadre IPS officer to the top post of Delhi Police has been doing the rounds for three years.
While theories on the Now factor of Asthana's appointment abound, it may be logical to infer that his appointment may indicate the central government's unwillingness to take any chances with the law and order situation in the national capital during the second tenure of NaMo as PM.
Since any untoward incident in the national capital could severely erode the image and credibility of the government of the day like the Nirbhaya case showed, the government has expressed its risk aversion through the appointment of its trusted man.
(By Rakesh Ranjan)