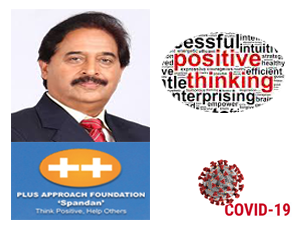 There are various stakeholders in the society that are fighting day and night to deal with the danger posed by Coronavirus spreading in the community. Governments are taking every measure to stop its spread and it positivity that will help people to deal with it as positivity compliments every negativity.
Former GAIL CMD Dr Ashutosh Karnataka, the mentor of Plus Approach Foundation, an NGO that disseminates positivity among masses, too is trying its bit to cause awareness about Covid-19.
Dr Karnataka feels 'Thinking Positive and Positive Thinking' is the only panacea to this travesty. He comes forward with his considered views suggesting that understanding ones responsibility and motivation to encounter the depressed state on account of this pandemic.