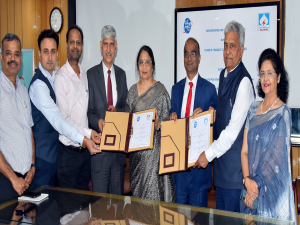 New Delhi (20.09.2023): PFC and SJVN Ltd have signed an MoU for providing financial support to various projects, including massive Renewable Energy ventures (Solar, Hydro, and Pumped Storage) totaling 12,178 MW capacity, along with a 660 MW thermal generation project for an estimated project cost of approximately Rs1,18,826 crore.

The MoU was signed by Manoj Sharma, Director (Commercial) PFC, and Akhileshwar Singh, Director (Finance) SJVN in the presence of Parminder Chopra, CMD PFC, Nand Lal Sharma, CMD, SJVN and Geeta Kapur, Director (Personnel) SJVN. Other senior officials including H. K. Das, ED (Projects), V Packirisamy, ED (Entity Appraisal), and Nitin Kumar, HOU (Projects-CSP) were present on this occasion.
PFC's financial support in form of term loan is tentatively proposed to range from Rs 80,000 Crore to Rs 90,000 Crore, demonstrating a substantial commitment to the realization of these vital projects. Notably, these funds may be further increased to accommodate the specific requirements of the renewable energy projects, emphasizing the adaptability of this partnership to evolving project needs.
This collaborative effort between PFC and SJVN Ltd underscores their shared commitment to fostering sustainable, clean energy solutions for India's future. By facilitating the development of renewable energy and thermal generation projects on the large scale, both entities are poised to contribute significantly to India's energy security and environmental sustainability.