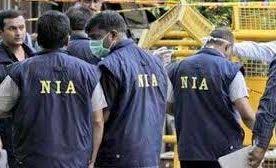 New Delhi (22.09.2022): Scores of Popular Front of India (PFI) activists were detained or arrested as the National Investigation Agency (NIA)-led multi-agency raids on the premises of the organisation and people linked to it as part of a nationwide crackdown across 10 states for allegedly supporting terror activities.

The Enforcement Directorate (ED) was among the agencies involved in the raids in Kerala, Tamil Nadu, Karnataka, Andhra Pradesh, Telengana, Bihar, Uttar Pradesh, Rajasthan, and Delhi. Officials said the searches were taking place at the premises of persons involved in terror funding, organizing training camps, and radicalizing people to join proscribed groups.

The PFI issued a statement confirming the raids at the homes of its national, state, and local leaders. "The state committee office is also being raided." PFI said it strongly protests "the fascist regime's move" to use agencies to silence dissenting voices.

The PFI, which was launched in Kerala in 2006 when three Muslim organizations floated after the Babri Masjid demolition in 1992 merged, has been under probe including for fuelling the protests against the Citizenship (Amendment) Act (CAA) in 2019-2020.