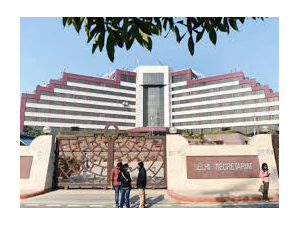 New Delhi (02.12.2021): NDMC chairman Dharmendra, a 1989 batch IAS officer, is seen to have superior experience to his competitors for the post of Delhi chief secretary that will fall vacant in January 2022 when Vijay Kumar Dev may take the VRS in preparation for his new assignment as the election commissioner of the Government of NCT of Delhi in April 2022.

Dharmendra is said to have all the right qualifications for the CS job. He has served in the Ministry of Housing & Urban Affairs and as the incumbent chairperson of NDMC, he has gathered the skills to handle the affairs of the Capital. He has also earned goodwill by his quiet and competent way of doing his job without causing any controversy.
Dharmendra could have been the sole choice if luck had not thrown a spanner by an unpredictable turn of events. The Mizoram state government wants the recently-appointed 1988-batch AGMUT cadre officer Mrs Renu Sharma, who was not too long ago appointed the state CS, replaced by an officer who knows the Mizo language. Of course, the Mizoram government's move is seen as curious if not highly objectionable. However, the central government, not to be seen as insensitive to an 'ordinary' demand of the Mizoram government, may accede to the state CM's request.
So, when Ms. Sharma returns, the central government may be under compulsion to find her a respectable slot befitting her CS stature.
That's how she has entered the selection scene of a new CS for Delhi. She is said to have, like Dharmendra, gathered creditable experience for handling Delhi's affairs from her previous posting as Principal Secretary of Finance and Urban Development.
Interestingly, Arunachal Pradesh chief secretary Naresh Kumar (1987 batch IAS) is also an aspirant for the job. However, his prolonged dispute with a 1985-batch IAS officer and several complaints, including anonymous and frivolous ones, may ruin his chances.
All said and done, the government has a lot of other choices as well. Manoj Kumar Parida (1986 batch IAS), Satya Gopal (1988), and additional chief secretary (Urban Development) Pravin Kumar Gupta (1989) are also in the reckoning but the short residual service of Parida and Satya Gopal may neutralize their chances. Parida and Satya Gopal are slated to retire in February and July 2022.
Since the period of residual service does matter in consideration for top posts, Naresh Kumar and P K Gupta, scheduled to retire in November 2023 and January 2024 do qualify for consideration on this count.
Dharmendra has the longest residual service till September 2025 while Renu Sharma will remain in service till October 2024.
Even though a few others too may have chances for consideration, they are way too junior to be taken seriously as real aspirants.
Even the ruling Aam Admi Party leadership is awaiting the Centre's decision for this top position. The reason is obvious as chief minister Arvind Kejriwal may not be in a mood to hurt his cause of emerging as a PM contender.
(By Rakesh Ranjan)