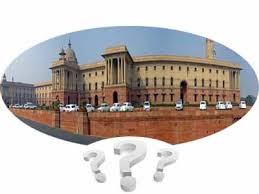 Union Mines Secretary Sushil Kumar (lAS:1987:TR) on Friday morning laterally shifted from the Ministry of Mines to National Commission for Scheduled Castes (NCST) in the rank and pay of Secretary to the Govt of India. He got his first posting as Union Mines Secretary on December 13, 2019 and within seven months got shifted elsewhere.
Immediately after the ACC order flashed on Friday morning, it took others in a flashback. It reminded several other of cases that took place in the recent past from then Consumer Affairs Secretary Pawan Kumar Aggarwal (IAS:1985:WB), I&B Secretary Ravi Mittal (IAS:1986:BH), Union Secretary, School Education and Literacy Reena Ray (IAS:1984:UT) and former Coal secretaries Inder Jit Singh (IAS:1985:KL) and Sumanta Chaudhary (IAS:1985:WB). These officers were shifted to other departments on a little different gound whereas Mrs Ray was repatriated to parent cadre. Sumanta Choudhary remained in dilemma (awaiting posting orders from the Centre) for several weeks before he chose to repatriate to West Bengal.
But Friday's orders left Sushil Kumar's peers puzzled over what exactly led to this development? If some well-placed sources are to be believed he found himself constrained in responding swiftly and bringing concrete outcome to Centre's call for a fast policy push. Reportedly, mining as a subject under the 'State-list' required more time to invite consultations of the state governments. Probably, Sushil Kumar's insistence on the time-consuming consultation process irked the government leading his abrupt and unceremonious lateral shift from a significant department (Mines) to a relatively insignificant one (NCST).
Power corridors abuzz Sushil Kumar bought peace for his future. Former Coal Secretary H C Gupta's misfortune is not an old story who is still considered among few honest officers; at least in his service peers. Some former Union secretaries remarked that Sushil Kumar was a little more fortunate than his senior Pawan Kumar Aggarwal who was shifted from Consumer Affairs (in the rank and pay of Secretary to the Govt of India) to Logistics Department in the rank and pay of Special Secretary; something which almost civil servant termed it distasteful.
After all, Civil servants know it better that, for a popular government someone's post, rank and pay hardly matters.
(By Rakesh Ranjan)
Your feedback:
shukla1554rakesh@gmail.com
indianmandarins@gmail.com