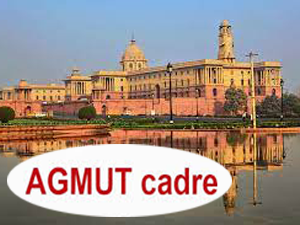 New Delhi (25.10.2023): Union Home Ministry is all set to go for a bureaucratic overhaul in view of chief secretaries of Chandigarh, Delhi and Jammu and Kashmir retiring between October and November, 2023. Around six senior IAS officers and similar number of IPS officers from the AGMUT cadre from 1989-1995 batches are expected to be part of the reshuffle.
In some cases, extensions of tenure are also likely in both the administrative and police services. This will most probably be the last reshuffle before 2024 Lok Sabha elections which will also impact Goa and Arunachal Pradesh besides the three UTs.
Arunachal Pradesh Chief Secretary Dharmendra (IAS: 1989: AGMUT), Goa Chief Secretary Puneet Kumar Goel (IAS: 1991: AGMUT) and New Delhi Municipal Council chairperson Amit Yadav (IAS: 1991: AGMUT) are among the frontrunners for posting in Delhi and Chandigarh. The tenure of Goel and Yadav is also ending.
Prashant Goyal (IAS: 1993: AGMUT) posted in J&K, and Sharat Chauhan (IAS: 1994: AGMUT) posted in Arunachal Pradesh are also among frontrunners for Chandigarh assignment. While Chandigarh's Adviser to the Administrator, Dharam Pal (IAS: 1988: AGMUT) is retiring this month, Delhi Chief Secretary Naresh Kumar (IAS: 1987: AGMUT) and J&K's Chief Secretary Arun Kumar Mehta (IAS: 1988: AGMUT) are retiring by November-end.
Sources said that Mehta's replacement may be chosen from among Atal Dulloo (IAS: 1989: AGMUT) and Raj Kumar Goyal (IAS: 1990: AGMUT). J&K DGP Dilbagh Singh (IPS: 1987: AGMUT) will retire by this month-end. DG, CRPF, Sujoy Lal Thaosen (IPS: 1988: AGMUT) is also set to retire in November.