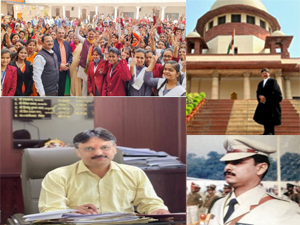 New Delhi (14.05.2022): Former UP top-cop turned Joint Director of Enforcement Directorate and MLA from Sarojini Nagar constituency in Lucknow Rajeshwar Singh is widely seen as a nemesis of law offenders. Now he has put on a lawyer's black gown to meet other practicing lawyers-cum-politicians of the NDA and UPA.

Singh is said to have started off in his new avatar with flying colors by arguing a case in the court of none else but CJI NV Ramana. In public it is seen as a journey of UP top-cop turned ED Joint Director, MLA, and now a Supreme Court lawyer.
On his new role, Singh tweeted in Hindi which loosely means: "My priority is the development and protecting rights of my constituents. Judiciary is the sentinel of people's rights. As a lawyer, I will always stand for fulfilling the expectation and protecting their rights up to the Supreme Court of India. Thanks for your good wishes."
Although enrolled for the bar in April this year after winning as an MLA, he appeared for the first time in SC Friday last in the court of the CJI as a counsel for a group of students who had petitioned the court against a medical college
He is said to be working on a number of PILs.
Known as a tough officer, Singh was credited with exposing scams like 2G spectrum allocation, the AgustaWestland chopper deal, the Aircel Maxis nexus, Amrapali fraud the Ponzi scheme scam, and the irregularities in the development of the Gomti riverfront during his tenure in ED. He even seized movable and immovable properties worth more than Rs 4,000 crore acquired from illegal earnings.
It may be noted that Singh won the Sarojini Nagar assembly seat in Lucknow on a BJP ticket by an impressive margin of over 56,000 votes. Singh was granted VRS by the Union government only a month ahead of the polls while he was serving as the joint director of the Enforcement Directorate (ED) in Lucknow.