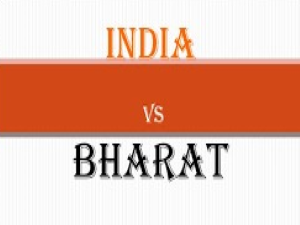 New Delhi (08.09.2023): When William Shakespeare used this line 'what is in a name' in his immortal play Romeo and Juliet to convey that the naming of things was irrelevant, he had not imagined things happening in India in the future. The debate over Bharat verses India has become a bone of contention for ruling NDA and opposition I.N.D.I.A. But what NDA or the BJP wanted is actually done as I.N.D.I.A. is now busy defending India full throttle ignoring many other issues. So, the BJP or NDA will continue pricking I.N.D.I.A to divert its attention from real issues.

The NDA will use Bharat wherever they find that it is suitably replaced as in the case of President of Bharat. Argue for Bharat on every platform wherever they can but no constitutional amendment is likely and certainly not in the special session of Parliament convened from September 18-22, 2023. They will drag I.N.D.I.A to defend India as much as they can. Interestingly it is not only the BJP that has been in the business of name changing in a big way but many others too have been doing it to reap political dividend out of such practices. United Provinces was renamed Uttar Pradesh in 1950, Pondicherry as Puducherry in 2006 by the Congress government, Poona to Pune in 1978 by the Indian National Congress (U), Benaras to Varanasi in 1956, Allahabad to Prayagraj by the Yogi Adityanath government. It was Shiv Sena-BJP government that changed Bombay to Mumbai, Madras to Chennai by M Karunanidhi of DMK, Calcutta to Kolkata by the Left Front government in 2001, Bangalore to Bengaluru by H D Kumaraswamy of Janata Dal (Secular). Uttaranchal was changed to Uttarakhand by the Congress and demand of the West Bengal government is still pending to change the name of West Bengal to Bengal.
But changing the name of the country exclusively as Bharat will have international repercussions as well and the country is well aware of it. Many countries had changed their names and the recent being Turkey which became Turkiye in 2022. So, what if the Modi government decides to officially change/substitute the name of the country from India to 'Bharat'? United Nations considers requests from countries to change their names when such requests are received, it takes a call on it. Unlike the situation in India, it will not be opposed by any country as it doesn't impact them politically albeit country like Pakistan might see any conspiracy in it taking clue from the statements made in India.
In India, a controversy arose after invitations for a G20 dinner were sent out by President Droupadi Murmu identifying her as 'President of 'Bharat'' instead of the customary 'President of India.' The united opposition accused the Narendra Modi government of planning to discard the name India and retain only 'Bharat' as the country's name. The opposition was of the view that the government doesn't have respect for the constitution.
But, the G20 summit dinner invitation is not the first time that the Centre used 'Bharat' in official communications. It used 'Prime Minister of Bharat' during Modi's visits to South Africa and Greece too but opposition missed it. It also used the same for G20 summit. Prime Minister Narendra Modi asked his ministerial colleagues to steer clear of the political dispute surrounding the 'Bharat'. The Prime Minister was very particular that only those with adequate familiarity with the subject should speak, marshalling facts to counter opponents of the idea, while always exercising restraint. So, the matter is only political nothing beyond that.
(Vinod Kumar Shukla)