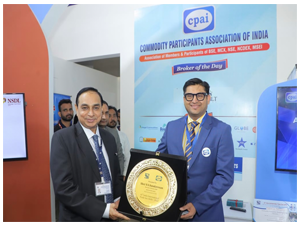 New Delhi (22.11.2022): SEBI Executive Director V Sunderasan has praised Power Gilt's Gsec Retailing initiative 'Power Giltedge' which was launched to facilitate investment in Sovereign Government securities issued by the RBI in small lots of Rs 10,000 Face Value for retail investors.

Investment in Sovereign Securities ensures around 8 percent per annum return without TDS with ultimate security of capital vis a vis bank FDs where capital is secured only up to Rs 5 Lac per FD. There is no lock-in period in government securities and are easily encashable when funds need to be liquidated. It is an ideal investment for retired senior citizens and pensioners.
Power Gilt Treasuries was nominated Broker of the Day at the SEBI pavilion at India International Trade Fair. Sundaresan praised Power Gilts' efforts in creating awareness about the concept of investment in Government Securities amongst masses in small ticket lots and was confident that this initiative will go a long way in redefining the fixed-income investing style in the retail landscape.