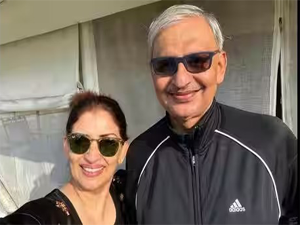 Mumbai (24.03.2023): An IAS couple -- Manoj Saunik and Sujata Saunik -- is in the race for the post of Maharashtra Chief Secretary. Both of them belong to the 1987 batch of the Maharashtra cadre.

One of them is likely to step into the shoes of Manukumar Srivastava (IAS: 1986: MH), when his tenure ends on April 30, 2023. Another strong contender is additional chief secretary (revenue) Nitin N Kareer (IAS: 1988: MH). Srivastava is likely to become the next chief information commissioner (CIC). A meeting on this will be held today and the appointment will be announced soon.
If Sujata Saunik is appointed, she will be the first woman to be elevated to the coveted position. Manoj, a former journalist, will be retiring from services in December 2023 and his wife in June 2025.
Manoj Saunik is the favourite of both Chief Minister Eknath Shinde and deputy chief minister Devendra Fadnavis for his ability to think on his feet. On the other hand, if the government decides to give the state its first woman chief secretary, Sujata may pip her husband to the post.