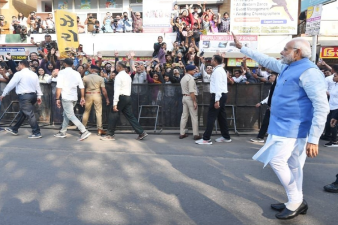 New Delhi (08.12.2022): The BJP has registered a historic and unprecedented win in Gujarat breaking not only its own previous record of 127 seats in the Gujarat Assembly but also of the Congress when it had won 149 seats in the state in 1985 under Madhavsinh Solanki defeating Janata Party.

The BJP, ruling the state from the past 27 years without break, had won just nine seats in 1980 Assembly elections while the Congress had won 141 seats with 51.40 per cent vote share in the state while Janata Party had won 21 seats with 22.77 per cent votes. But there has been a steady rise of the BJP in Gujarat since its first election in 1980 when the party came into existence.
In 1985, the Congress vote share had further gone up to 55.55 per cent with 149 seats to its kitty which was maximum so far while Janata Party had won 14 seats with 19.25 per cent vote share. But this vote share could also be credited to the sympathy votes after the assassination of former Prime Minister Indira Gandhi in 1984.
The emergence of BJP was first visible in 1990 Assembly elections when it managed to win 56 seats with 26. 63 per cent vote while Janata Party had won 70 seats with 29.36 per cent vote share with Chimanbhai Patel taking over as the Chief Minister in alliance with the BJP but the government did not last and Chandidad Mehta of the Congress took over the government in 1994 and remained the CM till 1995.
In 1995, the BJP had won 121 seats with 42.51 per cent vote and the Congress had won just 45 seats with 32.86 per cent votes but the party failed to manage its flocks together and due to resentment Kesubhai Patel was replaced with Suresh Mehta still it failed to stop split in the party and after a short spell of President's Rule of 27 days, the splinter group led by Sankersinh Vaghela of Rashtriya Janata Party forming the government. There was again infighting and Dilip Parikh emerged as the new Chief Minister replacing Vaghela.
Midterm elections took place in 1998 where the BJP in the leadership of Kesubhai Patel had won 117 seats with 44.81 per cent vote share and the Congress got.85 per cent vote share gaining around 8 per cent rise in its vote percentage from previous election. But Kesubhai could not complete his term yet again and Narendra Modi was sent to Gandhinagar from Delhi to replace him. Then Godhara and riots happened in Gujarat, the BJP managed to win its highest ever seats i.e 127 seats in the aftermath in Gujarat.
Post 2002 is the era called as Modified Gujarat from where slogans like Gujarat Model of governance, Modified Gujarat and Vibrant Gujarat were started catching eyeballs of people of the country with Modi winning 117 seats in 2007, 115 in 2012 by having a vote share of 49.12 and 47.85, respectively. The Congress increased its tally from 51, 59, 61 and 77 in 2002, 2007, 2012 and 2017 elections, respectively. The BJP barely managed to get 99 seats in 2017 amid protests of Patidars, Dalits and farmers.
So banking on the trends on paper, the Congress remained callous with the BJP managing all disgruntled lot including Patidar Hardik Patel, OBC leader Alpesh Thakore but Dalit leader Jignesh Mevani continued his tirade against the BJP who is trailing in the present election. Entry of AAP made things worse for the Congress with the party struggling to get a new president and the entire Congress keeping busy in Bharat Jodo Yatra. But the Interesting aspect of 2017 elections is that the BJP increased its vote share by 1.15 per cent taking it to 49.05 per cent and the Congress up by 2.57 per cent to 41.44 per cent.
In the present election, the BJP's vote per cent has gone past 50 and seats to around 155+ which is a record by any standards for Gujarat. But if split in the anti-incumbency votes brought humiliating defeat for the Congress, jibes like 'Ravan' and 'Aukat' against the PM had their own roles in consolidating Gujarities rallying behind the BJP. The too clever by half attitude and anti-Hindu statements of the AAP president have kept voters at bay from the AAP.

(By Vinod Kumar Shukla)