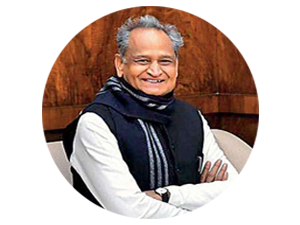 New Delhi (16.10.2021): Rajasthan Chief Minister Ashok Gehlot is said to have earned plaudits of civil servants on several occasions by just being empathic with them.

As an example, it is pointed out that when recently, a senior civil servant was suddenly repatriated from the center to parent cadre, the CM ensured that the officer should feel comfortable and let it be known that the officer's new posting would be in accordance with seniority to maintain the sense of dignity.
Through a years old anecdote, a senior IAS officer shared a similar story that shows the rapport of the CM with his officers. In this case, the officer concerned during her tenure as District Collector had cracked down on the mines mafia putting some MLAs and ministers at unease. It is said that when the matter reached Gehlot who was then also the CM of the state, he praised the officer for her sincere work instead of penalizing her.
However, when Gehlot couldn't withstand the mounting pressure, he is said to have called the officer, praised her lavishly, and took her in confidence about why he was being constrained to transfer the officer.
Such stories about Gehlot's empathic considerations for officers are abundant and many officers continue to have very high regard for his administrative skills.