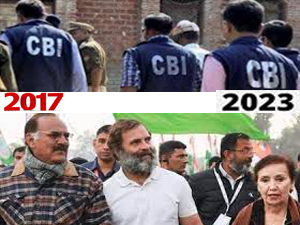 New Delhi (13.01.2023): The Central Bureau of Investigation (CBI) has registered a case against former Secretary to the Department of Economic Affairs Arvind Mayaram (IAS:1978:RJ), unknown officials of the Finance Ministry, RBI and the De La Rue International Ltd-UK, for the alleged irregularities in supply of exclusive colour shift security thread for the Indian currency. Raids were conducted at the premises of Mayaram in Delhi and Jaipur.

A section of political analysts believes that it's not a mere coincidence that Mayaram along with his wife had joined Rahul Gandhi in his Bharat Jodo Yatra on December 20, 2022 and days later CBI raided his premises in Delhi and Jaipur.

The CBI FIR into the matter reads that a complaint dated February 14, 2017, was received from Raj Kumar, Joint Secretary and CVO, Department of Economic Affairs, Ministry of Finance, North Block, New Delhi. On the basis of this complaint, a preliminary enquiry vide was conducted by CBI in Delhi.
The enquiry revealed that the Government of India entered into an agreement with M/s De La Rue International Ltd., UK (now here by mentioned as M/s De La Rue) for the supply of exclusive colour shift security thread for Indian Bank Notes in the year 2004 for a period of five years. The contract agreement was subsequently extended four times till December 2015.
The enquiry further revealed that Arvind Mayaram, Secretary, DEA, in 2013, approved another three years extension of an expired contract to M/s De La Rue. He also overruled the fact that an extension cannot be granted without obtaining mandatory security clearance from the Ministry of Home Affairs. Arvind Mayaram also did not take the approval from the Finance Minister.