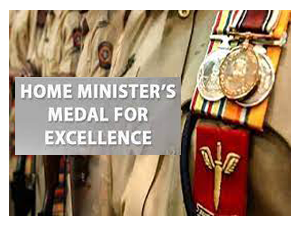 New Delhi (12.08.2022): Fifteen CBI officers have been awarded the "Union Home Minister's Medal for Excellence in Investigation" for the year 2022.

The CBI officers selected for the Award by MHA are:-
Surender Kumar Rohilla (DSP, AC-II, New Delhi)
Pramod Kumar (DSP, AC-I, New Delhi)
SS Bhadouriya (DSP, ACB, Gandhinagar)
Manoj Kumar (DSP, EO-I, New Delhi)
Kumar Bhaskar (DSP, AC-I, New Delhi)
Hemanshu Shah (Inspector, ACB, Gandhinagar)
Sambhaji Nivrutti Murkute (Inspector, EOB, Mumbai)
Mrs M Sasirekha (Inspector, ACB, Chennai)
Sridhar D (Inspector, SU, Chennai)
Satyaveer (Inspector, ACB, Delhi)
Saji Sankar AS (Inspector, SCB, Thiruvananthapuram)
Deepak Kumar (Inspector, EO-IV, Kolkata)
Anuj Kumar (Inspector, BSFB, New Delhi)
Amit Awdhesh Srivastav (Inspector, BSFB, Mumbai) and &
Pradeep Kumar Tripathi (Inspector, SC-III, New Delhi)
The Ministry of Home Affairs (Government of India) has initiated this scheme for award of medals to the members of Central Investigating Agencies and State/UT Police Investigating Agencies for excellence in the investigation.
The objective of instituting the medals for Police investigators is to promote and recognize high professional standards of investigation of the crime by investigating officers.