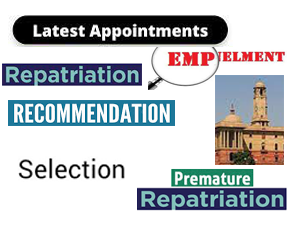 New Delhi (25.09.2023): Notifications of appointments and recommendations issued on Monday are as follows:

The tenure of Amit Khare (Retd lAS: 1985: JH) as Advisor to Prime Minister, in the rank and scale of Secretary to Government of India on contract basis, was extended beyond 12.10.2023 for a period, co-terminus with the term of Prime Minister.
PESB on Monday selected Manobendra Ghoshal for the post of Chairman & Managing Director, MSTC LTD. Currently, he is Executive Director, RITES Limited.

The Central Deputation tenure of Ashish Srivastava (IAS: 1992: MP) as Adviser, Inter State Council Secretariat, Ministry of Home Affairs, was extended for a period up to 03.10.2025.
The tenure of Dr Rajesh S Gokhale as Secretary, Department of Biotechnology, was extended for a period of two years w.e.f. 01.11.2023.
Ujjwal Kumar was appointed as OSD to Dr Subhas Sarkar, MoS in the Ministry of Education, at the level of Deputy Secretary. Currently, he is working as Deputy Secretary, Rajya Sabha Secretariat.