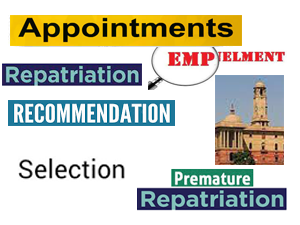 New Delhi (22.11.2022): Notifications of appointments and recommendations issued on Monday are as follows:

With the concurrence of the Government of Odisha and Government of Andhra Pradesh, the Central Government transferred SheIke Nachiket Viswanath (IPS:2019:OD) from Odisha cadre to Andhra Pradesh cadre on the grounds of his marriage with Ms. Nidhi Meena (IAS:2019:AP).
Shrikant Walgad (IAS: 1991: HY), CVO, Bharat Electronics Ltd. (BEL), Bengaluru, has been entrusted with the additional responsibility of CVO, Directorate of Ordnance (Coordination & Services) (DOO(C&S)), Kanpur for 6 months beyond 16.11.2022.
Samidha Singh (IRAS: 2006) was appointed as Director in the Ministry of Tribal Affairs, Delhi for a period of five years.