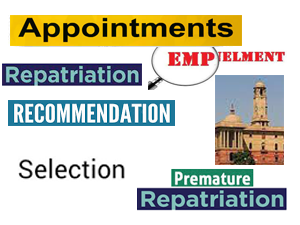 New Delhi (16.09.2023): Notifications of appointments and recommendations issued on Saturday are as follows:

The Ministry of Home Affairs granted Apex Scale to Satya Narayan Pradhan (IPS: 1988: JH), DG, Narcotics Control Bureau (NCB).
Prof. Abhay Karandikar was appointed as Secretary, Department of Science & Technology (DST) till retirement age i.e. 60 years. He is Director, IIT Kanpur.
Central Deputation Tenure of Jyoti Mehta (IOFS: 1992), Director, I&B Ministry, was extended for a period of two years beyond 19.11.2023 and upto 19.11 .2025. She counts her central deputation w.e.f. 20.11.2018.
The tenure of upgradation of the post of Secretary, National Commission for Safai Karmcharis (NCSK) from the level of Joint Secretary to that of Additional Secretary, presently held by Ram K. Khandelwal (IAS: 1989: BH) Was extended for a term up to 24.03.2024.
The tenure of upgradation of the post of Joint Secretary to the level of Additional Secretary in Ministry of Road Transport & Highways, presently held by Amit Kumar Ghosh (IAS: 1994: UP) for term up to 10.08.2024.
Ram Prasad Meena (IPS: 1993: AM) was appointed as Additional DG in BSF following which his Central Deputation tenure as Joint Secretary in the Department of Social Justice & Empowerment was curtailed.
The Central Deputation tenure of Rahul Kumar Sachan (ITS: 1997) was extended for a period of six months beyond 02.10.2023. Currently, he is Regional Director, Staff Selection Commission (Central Region), Prayagraj.
Alkesh Uttam (IRS IT: 2013) was appointed as OSD to Pankaj Chaudhary (MoS for Finance) in the Ministry of Finance at the level of Deputy Secretary on co-terminus basis.
Tanuja Mittal, (IA&AS: 1996), CVO, Shipping Corporation of India Ltd. (SCI), Mumbai, was prematurely repatriated to her parent cadre.