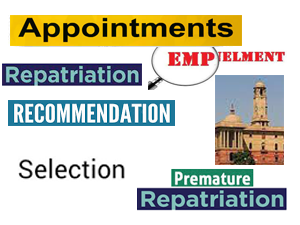 New Delhi (06.12.2022): Notifications of appointments and recommendations issued on Tuesday are as follows:

Nitasha Guria (IPS: 2008: BH) was appointed as Deputy Director in Bureau of Police Research & Development (BPR&D) for a period of five years.

Basudev Panda (IRSEE) was appointed as an Additional Member (Traction), Railway Board.
Ashok Kumar (IRSEE) was appointed as CAO, Patiala Locomotive Works
Rahul Gautam (IRSEE) was appointed as Director General, IRIEEN, Nashik
PESB selected Praveen Kumar (GM, ALIMCO) for the post of CMD, Artificial Limbs Manufacturing Corporation of India (ALIMCO).