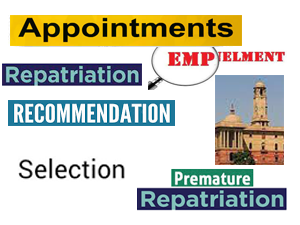 New Delhi (06.05.2022): Notifications of appointments and recommendations issued on Friday are as follows:-
The additional charge of the post of Secretary, Ministry of Civil Aviation was assigned to Aramane Giridhar (lAS:1988:AP), Secretary, Ministry of Road Transport and Highways from 07.05.2022 to 17.05.2022 during the period of absence on leave of Rajiv Bansal (lAS:1988:NL).
PESB on Friday selected Rajneesh Narain for the post of Director (Finance) of Northern Coalfields Limited (NCL). Currently, Narain is Chief Manager (Finance) in South Eastern Coalfields Limited (SECL).