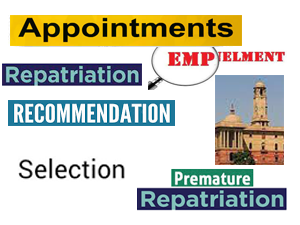 New Delhi (06.08.2022): Notifications of appointments and recommendations issued on Saturday are as follows:

Dr (Ms) N Kalaiselvi was appointed as DG, CSIR and Secretary, Department of Scientific and Industrial Research for a period of two years. She replaces Dr Shekhar C Mande who retired on 30.04.2022.
The Central Deputation of Ms Shefali Juneja (IRS IT:1992) was extended for a period of one-year w.e.f. 28.08.2022. Presently, she is posted as Representative of India (JS level) in the Council of International Civil Aviation Organisation (ICAO), Montreal, Canada under the Ministry of Civil Aviation.
The tenure of Ms Vandana Sharma (CSS) as Secretary (JS Level) Petroleum & Natural Gas Regulatory Board (PNGRB) for a period of six months beyond 25.07.2022.