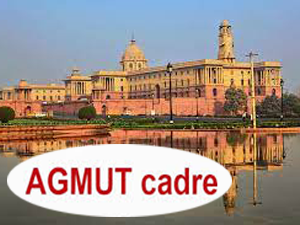 New Delhi (28.11.2021): For the AGMUT cadre that has been reeling in disappointment over losing several key turf positions to officers from other state cadres, it was literally manna from the heaven when the Delhi government announced the appointment of Chief Secretary Vijay Kumar Dev, a 1987 batch AGMUT cadre IAS officer, as an Election Commissioner in the Election Commission of the National Capital Territory of Delhi.

He will assume his new charge on April 1 and occupy this position for a period of six years.
Before the announcement came, Delhi officers were loudly wondering why Dev was not elevated to the secretary-level post of the Central government.
Officers then pointed out that former chief secretary KK Sharma was made secretary in HRD Ministry. He was further given another plum assignment as advisor to the Jammu and Kashmiri LG. Similarly, former chief secretary Dr. MM Kutty was made Petroleum Secretary at the Centre. After superannuation, he is chairman of the Air Quality Commission under the Ministry of Environment.
Further, former chief secretary Anshu Prakash who had bitter experiences in the Delhi government as he was allegedly assaulted at the chief Minister's residence was consoled with the position of Telecommunications Secretary at the Centre.
None of such assignments was seen coming for Vijay Kumar Dev. And hence the earlier speculations among the officers.
For Dev, the new assignment is a career-enhancing one as it gives him tenure till 65 after his superannuation. The reward may be a recognition of his capability that helped him avoid any controversy with the Kejriwal administration.
Dev's prestigious appointment may help restore to some extent the hope among the AGMUT cadre officers that all is not lost, that they have just gone through a bad patch, and there is no deliberate policy of discrimination being followed by the central government against them.
(By Rakesh Ranjan)