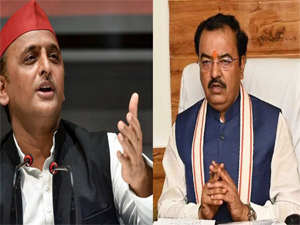 New Delhi (12.09.2022): It appears that the national president of the Samajwadi Party, Akhilesh Yadav, has failed to reconcile with his defeat in the 2022 UP Assembly polls, so far and therefore he is still looking for ways and means to come to power in Uttar Pradesh.
He has realised that it is not possible to compete with BJP only with the Muslim-Yadav i.e. MY equation and so he has now taken to ape the so-called BJP strategies. However, the SP leader should know that being a copycat in politics doesn't yield desirable results.
Yadav emboldened by Bihar affairs?
The turn of events in Bihar recently where NDA ally JD (U) ditched the BJP seems to have emboldened Akhilesh Yadav. After the saffron outfit's loss of face in Bihar, Akhilesh seems to be seeing a chance for himself in UP by trying to go the BJP way. But is he seriously making efforts to topple the BJP government or just playing a mind game is too early to predict?
Yadav seems to be thinking along the lines of 'Operation Lotus' when he recently offered his support to Deputy Chief Minister of Uttar Pradesh Keshav Prasad Maurya in becoming the Chief Minister of the state if he comes with 100 BJP MLAs. It is no secret that becoming UP Chief Minister has been Maurya's long-cherished desire!
The so-called 'Operation Lotus' was successful in Maharashtra but there was anti-climax for its proponents in Bihar and the table was turned on the BJP by Bihar CM Nitish Kumar. The way Akhilesh is trying to enact a coup in Uttar Pradesh is neither workable nor seems practical.
Numerous arguments go against Yadav's plan and it may even harm him electorally.
So here's a look at how this may unfold for the SP
OBC Politics
Let's start with OBC politics. Some political analysts are calling it a master stroke by Akhilesh Yadav if he manages to get Maurya to his side. A new OBC politics will begin in UP which will boost the numbers as at present the OBCs are numerically over 50 per cent of the total population of the state.

Yadav cannot topple BJP's apple cart in UP
There is another section that feels it will not have any impact except creating some confusion in the OBC ranks of the BJP. But the first argument that goes against Akhilesh Yadav's plan is that Keshav Prashad Maurya is not the only OBC leader in the BJP fold. The OBC leader's list is long and includes Swatantra Dev Singh, Sadhvi Niranjan Jyoti, Sakshi Mahraj, BL Verma, Anurag Singh and many more besides Prime Minister Narendra Modi himself falling under the OBC category. Maurya is a hardcore Hindutva leader and the moment he joins the SP his brand equity will plummet.
Can the Yadavs work under an OBC chief?
Breaking away 100 MLAs from BJP in UP is like a Herculean task for any leader in the saffron party. But if at all it happens, it will be an unbecoming moment for the Samajwadi Party. Why so? The core strength of the Samajwadi Party is its unconditional Yadav support base and Muslim votes. The moment a non-Yadav OBC is appointed as chief minister with the support of the Samajwadi Party, the commitment that the Yadav community has exhibited to make Akhilesh Yadav the CM will perish. The BJP is already out to woo the Yadav voters in UP, Bihar, Rajasthan and Haryana with its own strategy. They have brought Bhupendra Yadav to the election committee and Sudha Yadav to the election committee and parliamentary board of the BJP.

The BJP is cultivating Hindutva feeling in the community which was the core vote bank of erstwhile Bharatiya Jan Sangh. If the Yadav community starts relinquishing the SP and even if 10-20 per cent of voters switch sides, then BJP's plan will be considered successful.
SP can't ignore the MY combo
Amidst all the wooing drama the most sensitive issue that the Samajwadi Party cannot ignore is senior leader Azam Khan. Khan is already angry with the SP leadership and if a non-Yadav OBC is appointed chief minister, the Muslim community will certainly not be happy as Khan has always been advocating for a Muslim CM in UP. The issue will be tom-tommed by the likes of Assaduddin Owais who question why Muslims should rally behind leaders like Akhilesh or Mayawati. They must develop their own leadership and project a Muslim CM in the state. The decision to support a leader who talks about rebuilding Mathura and Kashi Temple will drive away Muslim voters who over 90 per cent voted for the Samajwadi Party in the last Assembly elections.

SP needs to recall failed past efforts at OBC outreach
The Samajwadi Party must not forget the result of the party's hobnobbing with former UP CM late Kalyan Singh for its politics of OBC outreach. The Opposition to this decision of the Samajwadi Party patriarch Mulayam Singh Yadav was such that he was forced to backtrack on his decision and stay away from Kalyan Singh. The situation and feeling will remain the same except for the change of name from Kalyan Singh to Keshav Prashad Maurya.
Will Akhilesh's strategy work?
One more thing that politicians certainly consider before switching sides is what benefit they are going to get out of it. No politician will shift from a smooth sailing ship to a rocking boat in his long voyage into the vast ocean of politics. There are a lot of things happening with Suheldev Bharatiya Samaj Party leader OM Prakash Rajbhar who has been vociferously criticising Akhilesh and two uncles Shivpal Yadav and Azam Khan not happy with him.

So, Akhilesh should focus on the 2024 elections at present and any misadventure in trying to form a government in Uttar Pradesh may harm his prospects in the 2024 Lok Sabha elections.
Politics makes strange bedfellows and if Akhilesh feels this strategy will work for him then he must go full throttle instead of making half-hearted efforts.