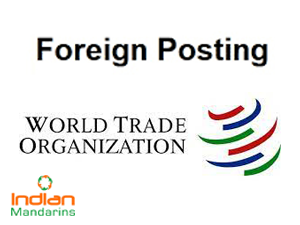 New Delhi (17.06.2021): The Appointment Committee of the Cabinet (ACC) on Wednesday appointed Ashish Chandorkar, a public policy analyst, author, business and trade consultant, and a prolific writer to the post of Counsellor, Permanent Mission of India (PMI), World Trade Organisation (WTO), Geneva, at DS/Director level for a period of three years.
This has caused a lot of heartburn in IAS and IFS circles. And they see the development as another case of lateral entry 'intrusion' in their prized domain.
The post falls under the Department of Commerce.
The post was advertised on October 20, 2020, and applications were invited from the persons having the following qualifications:
The officer must have worked for at least two years at the Centre under Central Staffing Scheme (CSS);
The officer should have experience in the trade, commerce, industry, and allied sector either at the Centre or in State Government;
The officer should have a 'very good service record; and
The officer should not have been debarred from Central deputation.
It seems the Government had a change of mind about the advertised qualifications required for the job in view of the enormity of problems the country is facing at the WTO whose rules and regulations have been subverted by the People's Republic of China (PRC) through devious bypassing in an attempt to impose its economic imperialism over the developing world.
Although some in the official circles have sought to belittle Chandorkar by whispering around that he got the WTO job as a reward for writing a book titled as the Fadnavis Years, these officials tend to ignore his accomplishments in trade and business matters as well as his expertise in the digital domain. In brief, he is a highly skilled and knowledgeable professional, according to open-source data.
There is an additional reason for officials to be miffed at the appointment of Chandorkar to the WTO. That is, besides the PMI Geneva post, they had earlier in October 2020 lost another important post of Permanent Representative of India (PRI) to the Permanent Delegation of India to UNESCO, Paris, in the rank of Ambassador which came to be occupied by Vishal V Sharma vice Jawed Ashraf.
Even at the time of the appointment of Sharma, a lot of whispering against him took place and anti-NDA media was inspired to do the hack job at the cost of journalistic neutrality and factual accuracy. But as happens with such a great endeavor, the end result was a huge disappointment for those who believe that all prestigious government posts are theirs by birthright.