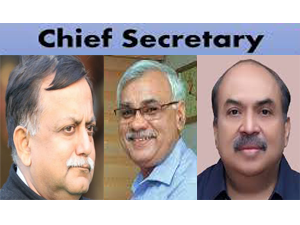 New Delhi (14.10.2021): The empanelment of Uttar Pradesh Chief Secretary Rajendra Kumar Tiwari, a 1985-batch IAS, for holding the post-Secretary in Government of India, has sparked off an intense interest in his successor in the state.
The intensity of interest is said to be due to the 'mysterious equation' between the central and state government. While some may argue that the equation is 'straightforward', a number of officials working in the state as well as at the Centre believe that the equation is anything but 'straightforward.'
While both viewpoints may be equally strong or weak depending on their rationale, it is in the air that the central government may be inclined to appoint the Union Secretary for urban development and housing affairs Durga Shanker Mishra, before his retirement in December this year, to tone up the UP official machinery before the state goes into the election. The need for toning up the official machinery has arisen from the incidents of the past month that have put the state government in an unfavourable spotlight.
There is also a viewpoint that, if for some reason Mishra does not make it to the CS post, Union Agriculture Secretary Sanjay Agarawal may be considered for the job.
In this background of speculations, another viewpoint is that CM Adityanath may prefer his man Friday Avanish K Awasthi, 1987 batch IAS, for the coveted position. Awasthi has service tenure till August 2022 whereas Sanjay Agarawal has residual service up to March 2022.
Agarwal is among the senior-most officers of the cadre and his appointment as CS may not attract any adverse publicity. On the other hand, Awasthi too figures in the list of seniors. However, if he is appointed CS, it would mean superseding or overlooking the seniority of half a dozen officers even though many of them are posted in the central government.
It is pointed out that DS Mishra's name did the rounds for the UP CS post after Adityanath became CM of the state. Who knows what didn't materialize then may turn into a reality now. In fact, nothing stops the government from drafting Mishra as CS merely two months before his retirement as recently Andhra Pradesh appointed Sameer Sharma as CS two months ahead of retirement.
Amid these speculations and various theories, one may not be surprised if Mishra is appointed as Senior PS to PM ahead of UP elections. This post fell vacant recently after the exit of PK Sinha from PMO.
(By Rakesh Ranjan)