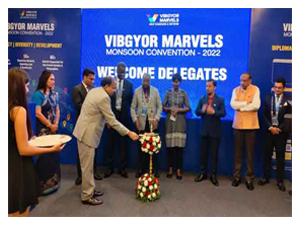 New Delhi (22.01.2022): Vibgyor Marvels, a consortium of public, private and social enterprises, has launched its services through an online event called Growing Together for a Sustainable Future on January 20, 2022. Vibgyor Marvels is committed to building a trusted network that helps enterprises find right partners, develop a competitive advantage, and share expertise and capabilities. The company brings together specialists from varying fields, including chartered accountants, lawyers, engineers, architects, bankers, data scientists, consultants, coaches, and industry thought leaders.

The virtual launch witnessed participation of foreign dignitaries, bureaucrats, distinguished industry experts, and business heads where Vibgyor Marvels' aim of driving innovation and partnership, among its members from India and abroad, was showcased.
The consortium has been designed to provide consulting services to national and international businesses, including government departments and PSUs, to help them implement their development plans successfully. It also allows every company that comes on board to maintain its independence.
Working end-to-end — from diagnosis to delivery — to drive systematic change and lasting value for its clients, Vibgyor Marvels offers the following services: Business Procurement; Project Lifecycle Management; Financial Management; Networking and Partnerships; Capacity Building; Legal Advisory Services; and Human Resource Management.