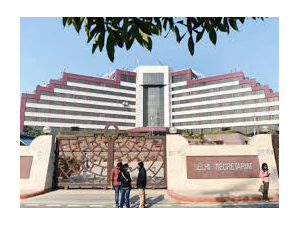 New Delhi (05.06.2023): Tug of war is intensified between the Centre and Delhi government after the Supreme Court ruling that Delhi government has the power like any other elected government over transfer and posting of its bureaucrats. But an ordinance has made the SC order ineffective still the Delhi government was trying to have its way with many things in the administrative remaining undefined. Meanwhile one of its ministers even recommended to the CM an inquiry against an IAS officer. Apparently in this backdrop, Delhi LG Vinai Kumar Saxena seems to have directed Chief Secretary Naresh Kumar (IAS: 1987: AGMUT) to bring the Centre's Ordinance to the notice of all Additional Chief Secretaries/ Principal Secretaries/ Secretaries/ Head of Departments of all Departments/ Autonomous bodies/ undertakings of Government of NCT of Delhi for strict compliance.

Following this direction, the Finance department of the Delhi government on May 31 2023 issued an order to senior officers to strictly follow the GNCTD Act and the Ordinance issued by the Centre last month related to services matter. This is to recall that the Centre on May 19, 2023 had promulgated an Ordinance overturning the Supreme Court's judgement which gave power to the AAP government over the Services Department and transfers and postings of senior bureaucrats in the national capital. The Ordinance has given more power to the LG and as per the GNCTD act, LG is the government.
Ever since the Ordinance was promulgated, Delhi CM Arvind Kejriwal started a campaign and met Opposition party leaders to seek support to stall this in the Rajya Sabha where the BJP does not have the majority.