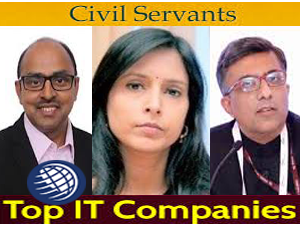 New Delhi (05.05.2022): It's a trickle, though. Senior civil servants, enthused with global opportunities, feeling constricted by government rules and regulations, and political bossism of the worst kind, are beginning to move on into a new brave world of challenges and opportunities.

The process began some time ago. First, it was Anandvijay Jha (IRPFS:1998), who opted to move out in 2019 and joined Walmart. Now, he is MD of Blackstone. His Linkedin profile highlights his two decades of experience with GoI as the pivot of his qualifications.
In 2021, Rajiv Aggarwal (IAS:1993:UP), who had spent years 26 years working in GoI and state governments - jumped the gun and joined Meta Platforms Inc as its head of policy.
Now, Alphabet Inc's Google has hired a new public policy head in India, Archana Gulati (IP&TA&FS:1989) who has vast experience of working with Niti Aayog and the Competition Commission of India. In Niti Aayog she worked on digital communications.
The preference of global companies for Indian civil servants isn't unusual in the context of Bharat moving into a new world of global best practices in digital communications and marketing.
On the whole, the induction of senior civil servants in global companies may lead to their better rapport with GoI and the mellowing of their operations in India.
ALSO READ:
IAS officer set to join Uber India at a salary & perks of 03 Crs a year (26.09.2019)