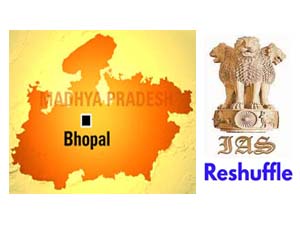 MP Chief Minister Shivraj Singh Chouhan, on the second day of his assuming charge of the office, cancelled all political appointments with immediate effect.

Further, taking action against officers who confronted BJP leaders in Kamal Nath government Shivraj administration shifted Rajgarh Collector, Nidhi Nivedita (IAS:2012:MP) and Deputy Collector Priya Verma (a PCS officer). Nivedita is posted to Secretariat as Deputy Secretary. Deputy secretary in Secretariat, Neeraj Kumar Singh (IAS:2012:MP) has been appointed Rajgarh Collector.
Nivedita had on January 19 slapped a BJP spokesperson while trying to manage law and order situation during a pro-CAA rally in her area. Her deputy Priya Verma was also involved during the incident.
Apart from this, the government also shifted municipal commissioner of Rewa, Sabha Jeet Yadav, who had slapped a Rs 5 crore notice to former BJP minister Rajendra Shukla, a close confident of CM Chouhan, for using defamatory words. Yadav has been appointed Additional Secretary in the Secretariat. CEO, District Panchayat, Rewa, Arpit Verma has been assigned additional charge of the Municipal Commissioner.
In fact, on March 16, the Kamal Nath government had ordered appointment of M Gopal Reddy (IAS:1985:MP) as Chief Secretary, replacing Sudhi Ranjan Mohanty (IAS:1982:MP), while heads were also appointed for constitutional bodies including MP Women's Commission, State Backward Classes Commission, State SCs Commission, State Minority Cell and State ST Commission.
It may be underlined that a BJP delegation led by Chouhan had on 17 March called on Governor Lalji Tandon and conveyed that the Kamal Nath's minority govt did not have rights to clear appointments to several constitutional posts. As per Shivraj administration's move all those appointments stands cancelled.