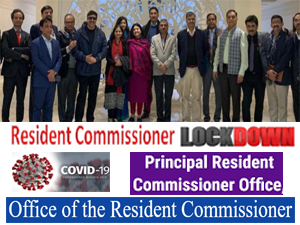 Exhibiting a live example of cooperative federalism Principal Resident Commissioners (PRCs), Resident Commissioners (RCs) and Additional RCs of various states these days find several reasons for contentment and rejoice as civil servants. While handling the increasingly complex tasks related to the COVID-19 crisis at the time of nationwide lockdown, RCs have joined hands together via Whatsapp group and video conferencing ensuring seamless coordination between all RCs and their respective state administration.
Many RCs told Indianmandarins that to their own amazement, they handled numerous emergency situations and problems in a matter of minutes and hours. For example, Himachal Pradesh CM was awestruck when RCs of other states ensured purchase order of perishable items like fruits and vegetables within an hour. Similarly, ration, food packets, medical emergency help were also made available to residents of a state stranded in another state in almost no time. Finding themselves in a sort of relay race, RCs developed a sense of togetherness so much so that a few of them termed RCs a cadre in itself.
When there is nationwide distress, RCs emerged as a bridge between states across country and lifeline in the hour of need for seamless coordination, conflict resolution, and realtime solution to tasks that ranged from the repatriation of migrant laborers to people stranded across states to patients suffering complex ailments to supply chain management of essential goods like medicines, medical equipment, food grains to perishable commodities like fruits, vegetables and other consumables.
Amid a few limitations, constraints and even small failures in providing solutions RCs find some silver-linings as well which they could cherish throughout their professional career. When the complete administrative machinery of the Centre and state governments have been handling the situation at ground level, RCs played a crucial role in plugging the need gap.
Sharing their experiences, some RCs underlined the exemplary role and guidance of senior government of India officials like P Parameshwaran Iyer (Retd IAS:1983:UP); Tarun Bajaj (IAS:1988:HY), while he coordinated during his tenure in PMO, and Vennecaganti Radha (IAS:1994:MH). On the other hand, some RCs of Hindi heartland were a little bit dismayed from UP as they could not get much response and coordination from Gautam Buddha Nagar and Ghaziabad districts which holds a big chunk of migrant laborers. But overall PRCs, RCs, ARCs across states appear to have gone through a unique experience of togetherness and a deep sense of cohesiveness. Several RCs told Indianmandarins that state governments too would have realized that RCs, ARCs could play a crucial and wider role in the times of national crisis.
(By Rakesh Ranjan)