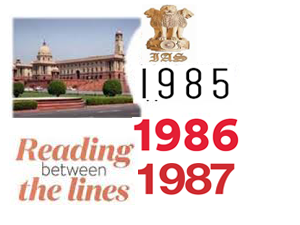 Appointment of secretaries and elevation of freshly empanelled IAS officer of 1987 batch as special secretaries appears to be the first major bureaucratic rejig effected post Dr P K Mishra's elevation as Principal Secretary to PM.

Certain aspects draw immediate attention and offer a lot to read between the lines whereas several others are being considered common practice.
The first and foremost among a few elements of surprise is the repatriation of Anil Khachi with immediate effect. He had hardly spent a little more than two months at Centre as Secretary, DIPAM and he was moved back. Despite a dozen of Secretary level reshuffle, the post of Department of School Education (MHRD) still remained under interim arrangement as I&B Secretary Amit Khare (IAS:1985:JH) continues with the additional charge.
Surprisingly, the NaMo administration maintained its silence over the fate of former Coal Secretary Sumanta Chaudhary (IAS:1985:WB) who is still waiting for next posting in Govt of India.
Department of Pensions and Pensioners Welfare too hangs in balance under an interim arrangement as Alok Tandon (IAS:1986:UP) made to look after the affairs in addition to his full-fledged responsibility as Secretary, Administrative Reforms (DARPG).
Appointment of Braj Raj Sharma (IAS:1984:JK) and Sanjeev Gupta (IAS:1985:HP) as Chairman, SSC and Secretary, Inter State Council Secretariat respectively appears to be a common ones. Similarly, Pramod Kumar Das (IAS:1986:MP) as Secretary, Ministry of Minority Affairs and Rajesh Bhushan's (IAS:1987:BH) appointment (In-situ) as Secretary (Coordination), Cabinet Secretariat too are simple in nature.
But appointment of Sailesh (IAS:1985:AM) as Secretary, Department of Public Enterprises seems to have brought him back in the mainstream where his batch mate Madhukar Gupta (IAS:1985:RJ) is still working as Additional Secretary.
Sanjeev Nandan Sahai (IAS:1986:UT) as next Power Secretary did not surprise anyone as it was something that was commonly speculated for a couple of months in the power corridors.
Frequent changes in NHAI again appears to be something unsurprising but N N Sinha's (IAS:1987:JH) appointment as Secretary, Border Management (MHA) is being seen an interim arrangement as he earned appreciation for his performance as NHAI Chairman. Border Management primarily deals with the connectivity and infrastructure along the border areas and his tenure as MD NHIDCL deals with infra and connectivity along border areas. His prior experience would have been identified a fit case for Border Management.
Further, ahead of massive disinvestment of Central PSUs on cards Tuhin Kanta Pandey (IAS:1987:OR) too is going with a simple logic which requires seamless moves under the guidance of top authorities.
The appointment of Pankaj Kumar (IAS:1987:NL) as CEO UIDAI would have given a great sense of relief by having a full-fledged head. Since long UIDAI was under the additional charge of A B P Pandey (IAS:1985:MH), Secretary, Department of Revenue.
Pravir Krishna (IAS:1987:MP), MD, TRIFED, appears to have got reward for his passionate towards TRIFED by receiving the rank and pay of Secretary in the same assignment.
The NaMo administration's quick take on freshly empanelled 1987 batch of IAS draws attention as 1985 and 1986 batch had to wait a little longer to get Special Secretary (Apex Scale) rank and Secretary level posting. But what makes 1987 batch a different case? It may be underlined that of 42 IAS officers (1987 batch) empanelled as Secretary/Secretary only 12 were elevated (In-situ) as Special Secretary; an interim arrangement to grant Apex Scale. Earlier, at several occasions, the entire batch used to be announced elevated as Special Secretary.
Contrary to what was rumoured earlier Pradip Kumar Tripathi (IAS:1987:JK) continues as EO. Guessing game over Tripathi as Bhaskar Khulbe's successor in PMO proved to be a guess in wilderness for now.