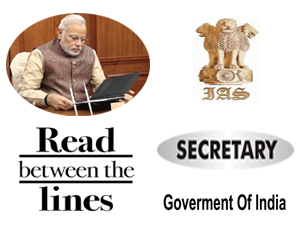 New Delhi (25.10.2021): There is a feeling or assessment in official circles that the latest empanelment of 27 IAS officers for holding secretary or secretary-equivalent posts (CLICK FOR COMPLETE LIST), announced late on Saturday evening, may be followed by another sooner than later.
This feeling or assessment of officers is based on the reasoning that while the representation of certain states like Tamil Nadu and Tripura is missing, large states like UP, MP, Maharashtra, and Bihar have got fewer berths in the empanelment. Rather interestingly, Gujarat got just a single berth. This may also confirm that additional empanelment may be around the corner.
Officials have also noted that of 27 empaneled officers, only 14 are currently working in the Government of India while the rest are still in their respective cadre states.
Interestingly, officers who are empaneled believe that though they have made it to the list, they may have to wait to be posted as Secretary or at Secretary-level posts, as 1989-batch empaneled officers are still awaiting their turn for posting. It is pointed out that there may be fewer vacancies in near future. So things remain in flux and it's yet to be seen how the government plans to deal with the situation.
Though vacancies may be few at the moment, it is pointed out that the government may not like to keep posts vacant for long like in the past because of the dynamics of the 2024 general elections that may have already entered into the calculations of the NDA top brass.
To support this viewpoint, officials point to the fact that the empanelment of 1990-batch has been faster compared to 1989 batch and it may be a little faster for junior batches because, among other things, of lesser batch strength.
It is pointed out that the latest ACC notification on the empanelment of twenty-Seven IAS officers for holding Secretary or Secretary-equivalent posts in the Government of India has taken over six months back since February 11, 2021, when the 1989 batch was notified for empanelment as Secretary or Secretary equivalent with two more officers in the review list notified on October 06.
This, in itself, is considered a feat in itself against the background of what has been happening for the past few years.
Further, 24 officers from the 1990-batch who have been empanelled for holding the posts of Secretary at the Centre are Pankaj Jain, Syedain Abbasi, Sanjay Kumar, Kamal Dayani, Mukhmeet Singh Bhatia, S K G Rahate, Raj Kumar Goyal, Alkesh Kumar Sharma, Ganji Kamala V Rao, Sarada G Muraleedharan, Atul Kumar Tiwari, Meeta R Lochan, K Moses Chalai, Alka Upadhyaya, Arti Ahuja, Manoj Ahuja, Anirudh Tewari, Sanjay Malhotra, Deepak Kumar, Nitin Ramesh Gokarn, Arun Baroka, Bhupinder Singh Bhalla, Vivek Bhardwaj, Vivek Kumar. Further, Ravi Shankar Prasad, Vijoy Kumar Singh, and Archana Agrawal have been empaneled for holding the Secretary Equivalent post.
(By Rakesh Ranjan)