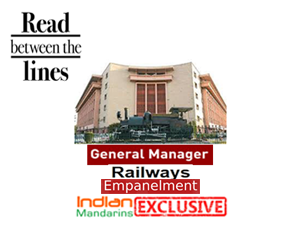 New Delhi (17.03.2023): Secretary, Railway Board to the post of General Manager, Northern Railway will be effective from April 1, 2023 vice Ashutosh Gangal. Here lies the catch. In the meanwhile the list of the newly empanelled and posted IRMS officers is as follows:
Basudev Panda (IRSEE: 1986) was appointed as General Manager, Banaras Locomotive Works, Varanasi.
Shobhan Chaudhuri (IRSSE:1986) was appointed as Secretary, Railway Board and GM, Northern Railway w.e.f. 01.04.2023.
S K Jha (IRSE:1986) was posted as GM, North East Frontier Railway (Construction), Guwahati.
PUK Reddy (IRSME:1986) was posted as GM, Kolkata Metro Railway.
P.K. Mishra (IRSME:1986) was posted as GM, Modern Coach factory, Rae Bareli.
The decision brings a few unique arrangements as well. The first unique feature of the order is that the ad-hoc arrangement for the key post of Secretary in Railway Board that has been prevailing for over one-and-a-half-years will come to a halt though for just 14 days only.
It is noteworthy that Chaudhuri will take over and function as full-time Secretary, RB for 15 days and RB Secretariat will again get back to its ad-hoc mode w.e.f. 01.04.2023. In fact, Ashutosh Gangal will vacate the coveted post of GM Northern Railways on 31.03.2023 following which the Secretary, RB Shobhan Choudhury will take over as GM, NR.