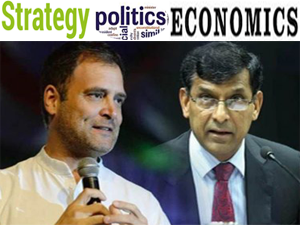 Rahul Gandhi interacting with former RBI governor Raghuram Rajan on India's economy post-COVID-19 is certainly not out of the context rather makes a great sense. But Gandhi interviewing Rajan is something also certainly uncommon as it has some unique political overture.
It may be underlined that the ruling BJP has constantly been trying to corner Congress' de-facto chief Rahul Gandhi by projecting him an over-rated leader beyond his limits and mocking him every now and then for his gestures and remarks.
Rahul is often termed in public as a sincere leader lacking consistency and seriousness in his approach. It is believed that Rahul's move would have emanated from his strategy of image makeover especially at a time when the country, post-COVID-19 appears to be facing severe unemployment crisis and economic downturn. One can not deny the strategy that Rahul's political stature and Rajan's institutional credibility put together may add to Rahul's image makeover.