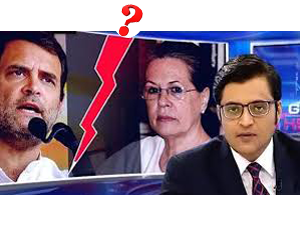 "Almost 12 hrs interrogation of #ArnabGoswami ???!!! This is unbelievable!! @CPMumbaiPolice@republic" tweets senior TV journalist, anchor and presenter Richa Aniruddh. She is not the only journalist who is discussing, analyzing and interpreting the recent development.
Goswami, the founder-editor of Republic TV, has been making buzz ever since a series of FIRs were filed against him for his alleged derogatory remark on Congress president Sonia Gandhi during a TV debate on Palghar lynching.
Those who see the development from a narrow perspective also relate the long hours interrogation with the interrogation of Robert Vadra Gandhi by the Enforcement Directorate in February-March 2019 ahead of Lok Sabha elections.
Political analysts who look at Arnab's case as a response to Vadra's interrogation fail to consider the fact that there is no election in Maharashtra except for CM Uddhav Thakeray seeking to get elected for Legislative Council scheduled for May 21, 2020.