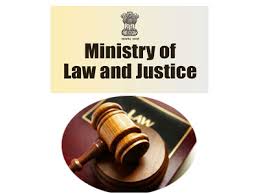 New Delhi (30.06.2021): The Department of Justice, Ministry of Law & Justice, has set up a portal with easy links to the Supreme Court of India and the High Courts of Delhi, Bombay, Calcutta, and Karnataka to facilitate visitors to the portal to get an Eagle view of legislations and their interpretations in respect of 'enforcing contracts' system in India.

This is prompted by the necessity to further improve India's ranking in the World Bank's Ease of Doing Business (EoDB) index.
"Enforcing contracts" is one of the 11 areas of business regulations taken up by the WB to rank a country on its EoDB index. Under the "Enforcing Contracts", the WB examines the judicial time and cost involved in resolving a standardized commercial dispute as well as the quality of judicial practices.
The portal may help the WB assess the EoDB in multiple cities of India like Kolkata and Bengaluru. Since the current EoDB ranking of India is based only on the examination of 11 indicators only in Delhi and Mumbai, the government hopes the portal may help the WB assess the situation in major business capitals of the country and reach a better conclusion on the overall business climate in the country.
The new portal also hosts online reporting by all High Courts regarding the Mediation and Arbitration centers annexed to the Commercial Courts in order to monitor and promote institutional mediation & arbitration by way of Pre-institution Mediation and Settlement(PIMS) of commercial cases. PIMS has been introduced with the aim of reducing the pendency of cases and promoting mediation as a viable dispute resolution alternative in commercial cases.