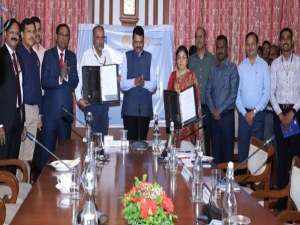 New Delhi (07.06.2023): A Memorandum of Understanding has been signed between NHPC Limited and Department of Energy, Government of Maharashtra for the development of Pumped Storage schemes and other Renewable Energy Source projects in Maharashtra.

The MoU envisages development of four Pumped Storage Projects aggregating to a total capacity of 7,350 MW, namely Kalu – 1,150 MW, Savitri – 2,250 MW, Jalond – 2,400 MW and Kengadi -1,550 MW. Other Renewable Energy Source Projects too will be developed in the state under the agreement. The MoU entails harnessing the Pump Storage Projects as Energy Storage Solutions to help achieve the national objective of Energy Transition, i.e., installed capacity of 500 GW of renewable energy by 2030 and Net Zero by 2070.
CMD, NHPC R K Vishnoi expressed his gratitude to the Government of Maharashtra for reposing their trust in NHPC for development of Pumped Storage Schemes in the state. He said that this will be a stepping start for NHPC in the state of Maharashtra. These projects will attract an investment of about Rs 44,000 crore and will generate indirect and direct employment for 7,000 people in the state, he added.