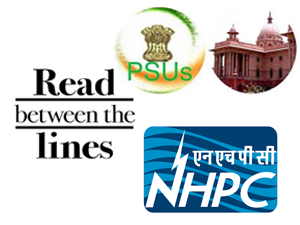 New Delhi (05.12.2021): As the news broke on Thursday that the Ministry of Power had shown the door to NHPC Director (Personnel) Nikhil Kumar Jain 'with immediate effect' four months ahead of his scheduled retirement on March 31, 2022, feverish speculations set off about the probable reasons for this sudden development.

It is said that the official reason for Jain's removal could be his purported poor performance. But this may appear too simplistic. Because a person holding an official position as the one held by Jain does not slide into inefficiency one fine day or in a week or in a month. Moreover, when a person is appointed to a director post of a company, he is vetted for his performance and integrity. So the purported official reason does not seem to be tenable.
There could be something more.
One of the more convincing reasons for this kind of drastic action is generally irreconcilable policy differences arising so much not from policy differences as from personal and temperamental problems. So it may not be unreasonable to surmise that probably Jain has put himself in harm's way by defying not only certain instructions from the Ministry but also by going against the grain of teamwork. Possibly his personal feud with his bosses might have escalated to a point where the latter had no option but to call it quits.
It is rumored that Jain, originally an Indian Railway Personnel Service (IRPS) cadre officer, had issues with colleagues and superiors even at Air India, where he was brought as Personnel Director by former CMD Rohit Nandan. It is said that he could not even gel with Nandan, his benefactor. He is also said to have had issues with another former Air India CMD Ashwini Lohani who was gracious enough to ignore his faultlines in the interest of maintaining the spirit of the railway fraternity.
After making things hot for himself, Jain planned and escaped to NHPC in 2017. Everything was going fine with him there till his ambition again drove him to stir trouble for himself as he could not restrain himself from indulging in 'habitual petty personal politicking'.
It is said he reached the breaking point after failing to get PESB to select him as CMD. Having failed in achieving his legitimate dream, he is said to have set himself into the ruinous course of picking up quarrels with one and all. As his personal dealings continued to deteriorate, the Ministry finally got sick and tired of entertaining complaints against him and decided to part ways with him believing that he was beyond redemption.
(By Rakesh Ranjan)