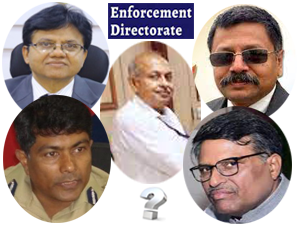 New Delhi (10.09.2021): A section of bureaucrats believes that the outgoing Enforcement Directorate chief Sanjay Kumar Mishra's successor could be from the IRS or IPS, but not from the IAS.

Going by the SC order, Mishra will retire in the third week of November 2021 and hence the search for a successor has to begin in the right earnest considering the importance of the post.
Broadly, four names have started doing the rounds as possible strong contenders. But none of these belongs to the IAS.
The first and foremost name which is tossed about is of senior IRS (IT) officer Seemanchal Das for whom a post of Principal Special Director was created in the ED. Earlier, he worked as Private Secretary to the then Finance Minister Arun Jaitley. With his patron gone, it is yet to be seen whether he still enjoys the same confidence as before.
Balesh Kumar, a 1987 batch IRS C&CE officer, is said to have been the front runner for the ED chief job before he became a member of the Central Board of Indirect Taxes and Customs. He is currently also heading the Directorate General of Revenue Intelligence and earlier worked in the ED as a Special Director.
It is pointed out that the Centre could still draft Kumar as ED chief in spite of his other engagements.
The name of two IPS officers also hangs in the air.
They are Praveen Sinha, a 1988-batch Gujarat cadre IPS officer, and SM Sahai, a 1987-batch J&K Cadre officer (now called UT cadre).
Praveen Sinha is currently a Special Director in CBI and recently officiated as CBI chief as a stop-gap arrangement.
With few other names also in circulation, the administration has ample time to look into the merits/demerits of contending officers before Mishra's extended tenure ends on November 18, 2021, and he hangs his boot.
(By Rakesh Ranjan)

ALSO READ:
ED: SC upholds govt's decision, cautions against another extension to SK Mishra (09.09.2021)