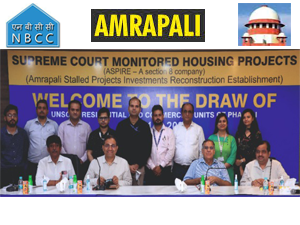 New Delhi (18.06.2021): NBCC digitally organized the first Draw of unsold Residential/Commercial units of the Phase-I Amrapali Project on June 14, 2021, at NBCC HQ.
Readers may recall that the project is monitored by the Supreme Court following the customer-friendly intervention of earlier SC judge Arun Mishra.
NBCC has been seen since expeditiously acting upon the issue of resolving the homebuyers' crisis.
In the first draw, units were allotted through a lottery system to the applicants who had submitted their applications previously.
Considering the ongoing COVID-19 second wave, applicants joined digitally and the draw was conducted in an organized yet transparent manner by the company.
The total eligible applicants considered for the draw were 87. However, 49 units were put for sale out of which 20 units were allocated in total. Unsuccessful/ waiting applicants will be provided with an opportunity to book units from 29 balance available units.
The lottery allotment was conducted in the presence of R Venkatramani, Ld. Court Receiver (through VC); Ravi Bhatia, Forensic Auditor; DK Mishra, Chartered Accountant; L Shivaraman, office of Ld. Court Receiver, and KPM Swamy, ED (Engg.)- RBG Amrapali, NBCC, who was accompanied by his team members.
The event concluded with a vote of thanks to all the participants and dignitaries present during the event.